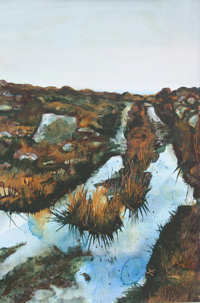 In her studies at Art College Christine chose printmaking, primarily etching, as her chosen medium. Since leaving, she has extended her range to include monotypes, watercolour and, as shown here, in 'Kelsey's lane', acrylics.
She enjoys the versatility acrylics afford and uses them lightly to capture reflections, sand and the delicate environment of rock pools, or, more strongly, to evoke the great power of moving water and the stolidity of heavy rock.
Although she admires the work of many artists, her chief inspiration is nature itself. Sensitive to its changing moods, she spends as much time as she can observing and understanding. In her current work nature shapes everything from the instantaneous flicker of light on water and the ceaseless upheaval of sea to the great masses of rock that, though seemingly unchanging, are seen to have been shaped and eroded by the endless cycles of weather and tide. Christine hopes in her most recent work, see Gallery, to capture something of the ever changing boundary between land and sea.